Revolutionizing Obesity Treatment: The Surge of Prescription Weight Loss Drugs in Modern Healthcare
Once shrouded in stigma and simplified solutions, the narrative around obesity has undergone a drastic rewrite. Where lifestyle adjustments were once the end-all, we now witness the rise of the weight-loss prescription drug market, with obesity emerging as the fastest-growing therapeutic area of clinical research in the broader pharmaceutical landscape. Recognized for its significant ramifications on public health and the economy, obesity has unveiled a vast untapped market potential, promising multi-billion dollar opportunities, evidenced by the success of recent new entrants, with many others lining up in clinical trials.
The Heavy Truth
Obesity isn't just about a few extra pounds; it's a serious medical issue where your body stores way too much fat. Think of it as your body's warning signal when your body mass Index (BMI) hits 30 or more. Obesity is not just about looks—it is like a sneak attack on your health, linking up with some nasty health problems like heart disease, diabetes, high blood pressure, some scary cancers, and even messing with your sleep. Despite its established link to mortality, obesity is often underreported on death certificates.
Here are a few startling facts: Obesity rates have risen dramatically across the globe in the past few decades. Since 1975, the prevalence among adults has almost tripled, and among children and adolescents, it has surged by almost fivefold. As of 2016, over 1.9 billion adults were carrying extra weight, with a whopping 650 million of them being categorized as obese. The situation is even more dire in the United States, the world's largest economy, where over 40% of adults are obese. This is significantly higher than the global average of 13%. In the U.S. alone, this equates to over 100 million individuals grappling with obesity. Moreover, according to WHO, at least 2.8 million people die each year as a result of being overweight or obese.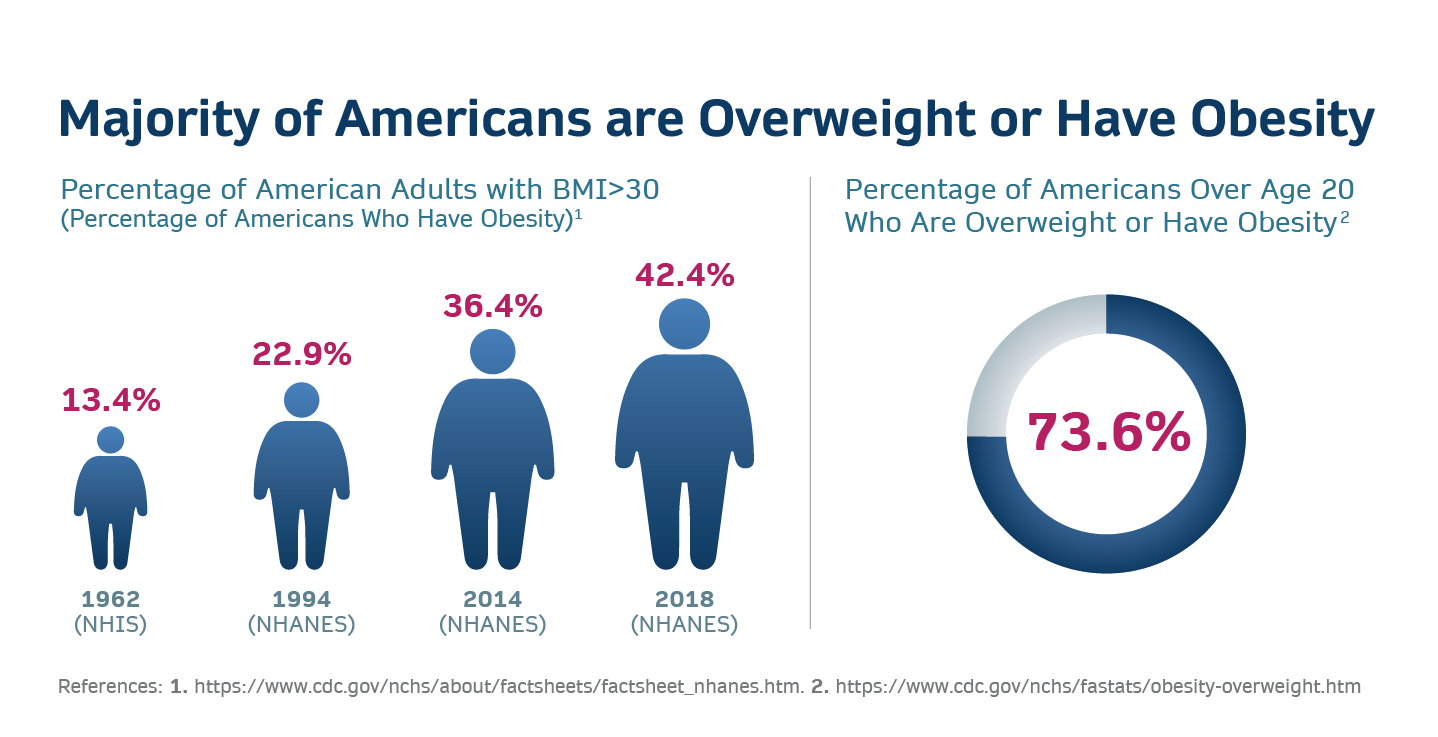 Tackling obesity Isn't just a personal health issue; it's a global necessity with far-reaching economic implications. The economic burden of obesity is staggering. According to a report from the World Obesity Federation, the global economic impact of overweight and obesity is expected to rise to over $4 trillion annually by 2025. This encompasses not only direct medical costs, such as treating obesity-related diseases, but also indirect costs, like lost productivity, disability, and premature death. In the United States, the annual medical cost of obesity-related illnesses is estimated at nearly $173 billion.
The Brief History of Anti-Obesity Medications
In the past decade, the issue of obesity has garnered significant attention. Notably, in 2013, the American Medical Association formally recognized obesity as a chronic disease, highlighting its serious nature and the importance of addressing it as a public health concern. This contributed to changing the common view, recognizing it as not just bad lifestyle choices and lack of willpower but a disease that needs to be treated. While there have been a number of non-drug treatments, including medical procedures like gastric bypass and other bariatric surgeries, early anti-obesity medication (AOMs) couldn't gain widespread acceptance, lagging far behind expectations. Early-generation AOMs offered modest weight loss benefits (3%-8%), with even a few of them accompanying safety concerns and severe side effects. Newer medications like Qsymia and Contrave, approved in 2012 and 2014, respectively, represented advances in obesity treatment, offering more significant weight loss outcomes. However, even these drugs were not without their safety challenges.
The current phase of blockbuster drugs with superior efficacy and safety profiles dates back to the late 70s and 80s, and it's quite an interesting one! It started in the 1980s when Dr. Joel Habener discovered the hormone GLP-1 (Glucagon-Like Peptide-1). This biological messenger is produced in the gut and is crucial in regulating blood sugar levels by promoting insulin secretion – an essential hormone controlling blood sugar. The initial excitement about GLP-1's discovery was due to its ability to stimulate insulin secretion and regulate blood glucose. However, despite its potential, GLP-1-based targeted treatment couldn't have the desired therapeutic effect due to GLP-1's rapid disappearance in the body, posing a crucial challenge. A breakthrough came in the 1990s with Dr. John Eng's discovery of the GLP-1 variant in Gila monster venom, known as exendin-4, which was more stable and longer-lasting in the human body. This led to the development of Exenatide (Byetta) in 2005, a twice-a-day injection by Amylin Pharmaceuticals.
Seeking improvement, Novo Nordisk's chemists modified GLP-1, attaching it to a blood protein for stability, and after extensive research, created liraglutide (Victoza), a once-daily injectable approved for diabetes in 2010. Novo Nordisk went on to establish its leadership, evidently a monopoly in the global insulin market, with a market share of 45.7%. This was just the beginning; as if leading the diabetes market wasn't enough, the company wanted to capture a much bigger market. While researching liraglutide as a GLP-1 receptor agonist, the company stumbled upon an unexpected finding: the appetite-suppressing effects of the GLP-1 drug liraglutide on rats in the early 1990s, leading to its exploration as an obesity treatment. By 2010, after extensive research, overcoming internal resistance, and convincing the leadership that obesity was more than a lifestyle choice, liraglutide was approved for diabetes treatment. Subsequent studies on its effects on weight loss led to its approval as Saxenda for obesity treatment in 2014, offering modest weight loss benefits. However, Novo Nordisk continued to innovate, developing semaglutide (marketed as Ozempic), a GLP-1 drug requiring only weekly injections, approved for diabetes in 2017. Surprisingly, it induced significant weight loss – about 15%, much higher than Saxenda and other early AOMs. Although initially not approved for weight loss, many began using Ozempic off-label for this purpose, prompted by its mention in commercials and social media buzz. Finally, in 2021, Novo Nordisk received FDA approval to market a higher dose of semaglutide as Wegovy for obesity treatment, marking a significant advancement in obesity management and highlighting the evolving role of GLP-1 drugs beyond diabetes.
Wegovy – Leading The Rise of Anti-Obesity Medications
Wegovy was touted as a crucial breakthrough, reporting significantly superior efficacy and safety data compared to other FDA-approved AOMs. The drug has shown an average weight reduction of approximately 15% at 104 weeks in clinical trials, demonstrating significant and sustained weight loss. Moreover, in a recently concluded clinical trial enrolling 17,600 patients with obesity, existing heart disease, and without diabetes, it was found that Wegovy demonstrated significant cardiovascular benefits among patients who were already on statins and other heart disease prevention medications. Specifically, the drug reduced the risk of heart attacks by 28%, lowered the occurrence of deaths related to cardiovascular issues by 15%, and decreased the rate of non-fatal strokes by 7%. These recent findings suggest that Wegovy, beyond its primary use for weight loss, offers substantial protective effects against serious heart-related events and overall mortality in patients.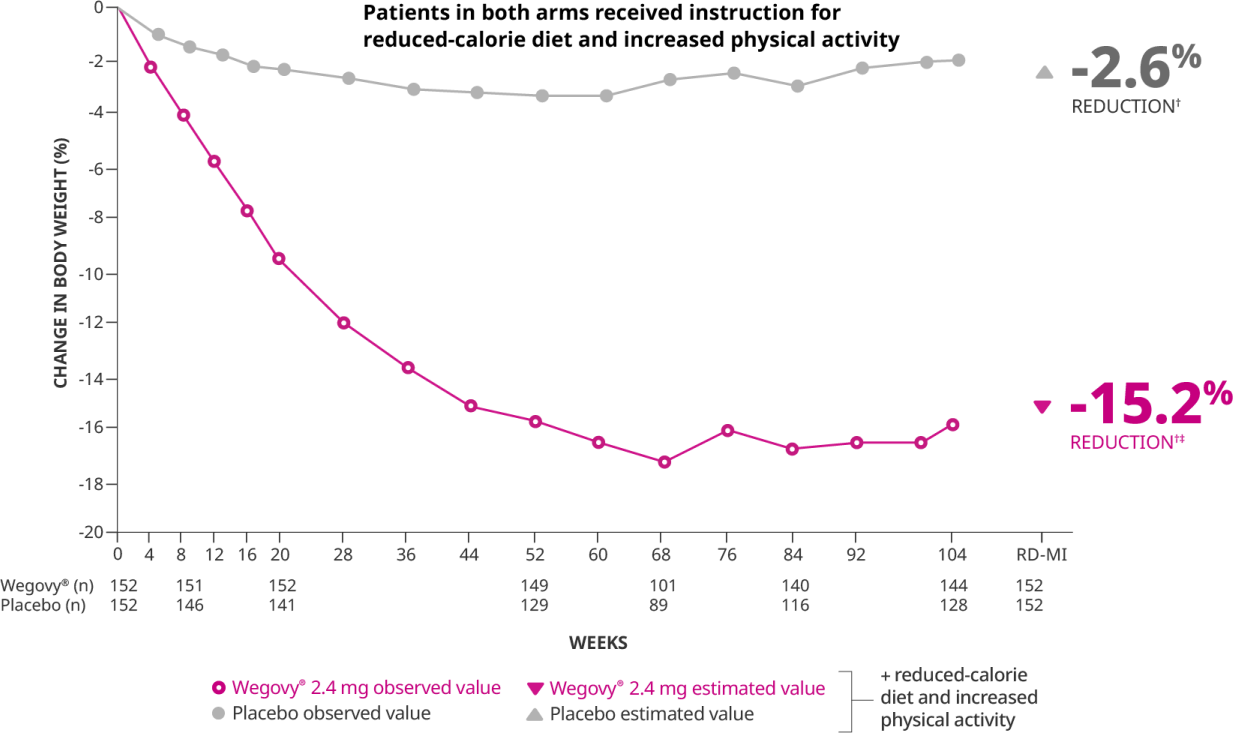 With its promising weight loss effects, Wegovy became a highly sought-after treatment option for obesity. The drug generated global revenues of over $1.38 billion in the recently concluded Q3 of 2023, with more than 95% of it being generated from the U.S. market. The company achieved blockbuster status in a span of two years. In the first nine months of 2023, Wegovy made nearly $3.1 billion in revenue, marking a growth of more than 490% compared to the same period last year. The significant demand for Wegovy was further boosted by an unexpected endorsement from Elon Musk. In response to a question about his weight loss on social media, Musk credited "Fasting" and later "Wegovy" for his results. This endorsement from a high-profile figure like Musk, who is not a spokesperson for Novo Nordisk, brought additional attention to the drug​​​​.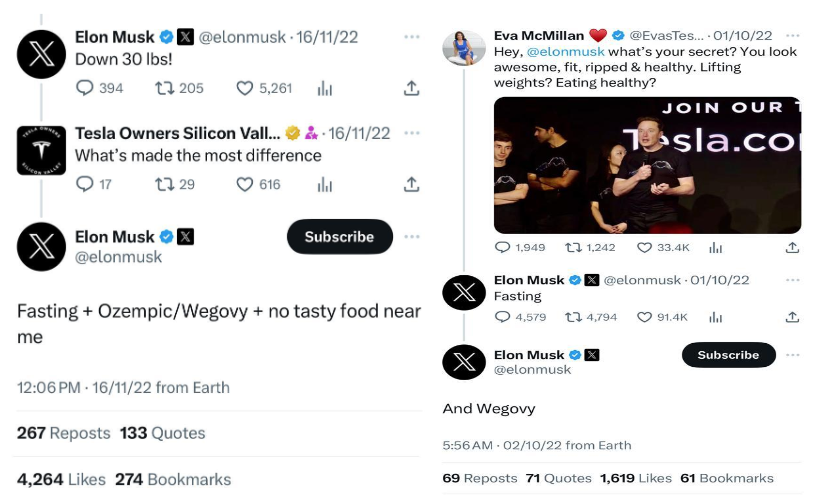 However, the overwhelming demand for Wegovy led to supply shortages. Novo Nordisk has struggled to keep up with the soaring demand for this appetite-suppressing, anti-obesity drug, forcing the company to limit the number of new patients who can start treatment. This issue has been a significant concern for Novo Nordisk, which expects supply chain curbs to persist into 2024.
Eli Lilly Enters The Party
In a recent landmark development in the fight against obesity, the U.S. Food and Drug Administration (FDA) has approved Eli Lilly's new anti-obesity medication Zepbound (trizepatide), making it another significant addition. Zepbound stands out as the first and only obesity treatment that activates both GIP (glucose-dependent insulinotropic polypeptide) and GLP-1 (glucagon-like peptide-1) hormone receptors. The new entrant has emerged as a powerful rival to Novo Nordisk's Wegovy (semaglutide).
Both Zepbound and Wegovy are approved for use in aiding weight loss, but they work differently. Zepbound is a dual-acting drug that stimulates both GIP and GLP-1 receptors, enhancing insulin secretion and sensitivity and aiding in weight loss. This simultaneous activation of both receptors, in contrast to just one (GLP-1) in Wegovy, offers Zepbound a more comprehensive approach to managing both blood sugar levels and body weight. Zepbound could potentially offer benefits such as enhanced glycemic control, improved weight loss outcomes, and a broader metabolic profile.
In terms of efficacy, Zepbound demonstrated impressive results in the 72-week SURMOUNT-1 clinical trial. Different dosages of Zepbound achieved up to 22.5% weight loss, significantly higher than the placebo group (2.4%). In comparison, the STEP 1 clinical trial for Wegovy over 68 weeks showed that participants experienced up to 14.9% weight loss with its highest dosage of 2.4 mg semaglutide​​ compared to just 2.4% for the placebo group. Although both medications are effective for weight loss, Zepbound showed a higher percentage of weight loss at its highest dosage compared to Wegovy. However, it is important to note that trial designs, durations, and participant populations can vary, making direct comparisons complex​​. Notably, Eli Lilly has registered a Phase 3b controlled trial (NCT05822830), a head-to-head trial comparing the efficacy and safety of Wegovy and Zepbound.
Pfizer, Amgen, Sun, and Other Big Pharma Wants in Too…
The market for anti-obesity medication is still in its infancy, characterized by high prevalence (more than 100 million in the U.S. alone), positive reception of GLP-1 receptor agonists, and an increasing recognition of obesity as a critical healthcare issue. Prominent financial institutions Goldman Sachs and Morgan Stanley have pegged the global market size at $6 billion and are highlighting its explosive growth to reach $77 – $100 billion by 2030. That's more than 15x growth in a span of just seven years. Additionally, Wall Street analysts forecast that Zepbound, a new entrant in the market, could achieve peak sales of an astonishing $37 billion. This figure significantly eclipses the peak sales of Abbvie's Humira, a medication for rheumatoid arthritis, which generated a record peak sales of $21.2 billion in 2022. The initial success of Wegovy and, more so, the significant market potential has managed to attract the big pharma names.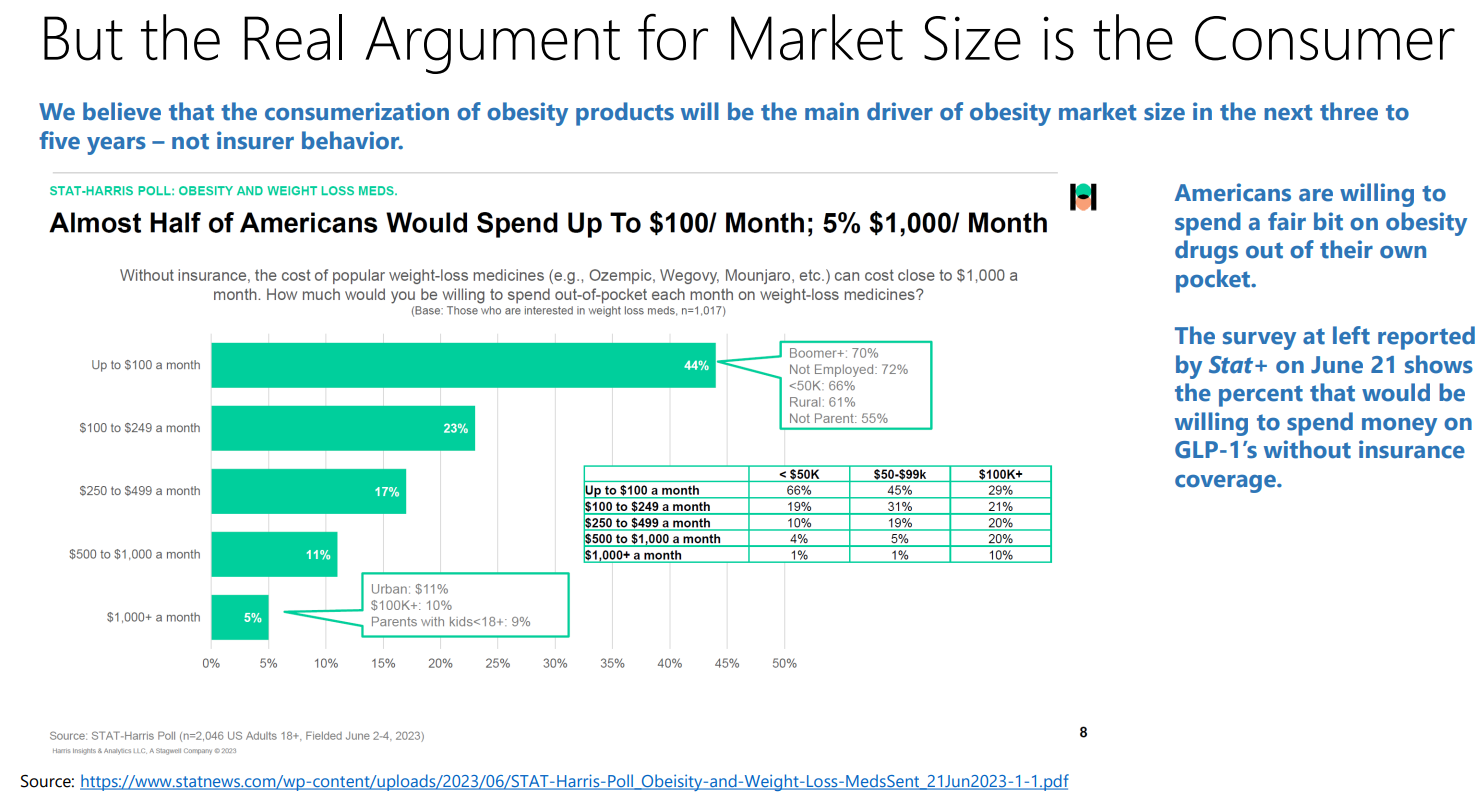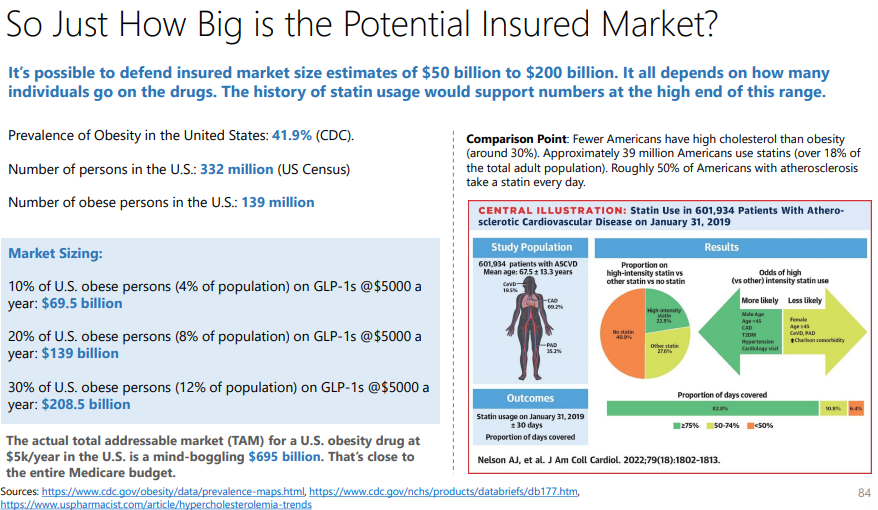 Who Could Overlook This Lucrative Prospect?
With such staggering figures and growth potential, it's no wonder that heavyweight pharmaceutical companies are eagerly jumping into the fray.
Pfizer is advancing danuglipron, an oral GLP-1-RA candidate, towards late-stage development. This drug is part of a significant clinical development program and is currently undergoing a Phase 2b study in non-diabetic obesity participants. Pfizer aims to finalize plans for the late-stage program of danuglipron by the end of 2023, and the ongoing study is expected to be completed by the end of the year. Amgen's AMG133, a GLP-1 receptor agonist and a GIP receptor antagonist, is being evaluated in Phase 2 trials, while Sun Pharmaceuticals' GL0034, a
novel long-acting GLP-1 receptor agonist, is being studied for the treatment of type 2 diabetes and obesity with Phase 2 trials anticipated in the near future. Moreover, Novo Nordisk and Eli Lilly are developing oral formulations that are currently being evaluated in clinical trials. Novo Nordisk is in the late stages of developing an oral version of Wegovy and has even reported an encouraging efficacy similar to what was reported in injectable drug trials. The oral version has already been approved by the U.S. FDA for Type 2 Diabetes and is marketed under the brand RYBELSUS®. Eli Lilly is in the mid-stage clinical development of Daily Oral GLP-1 Receptor Agonist Orforglipron for adults with obesity.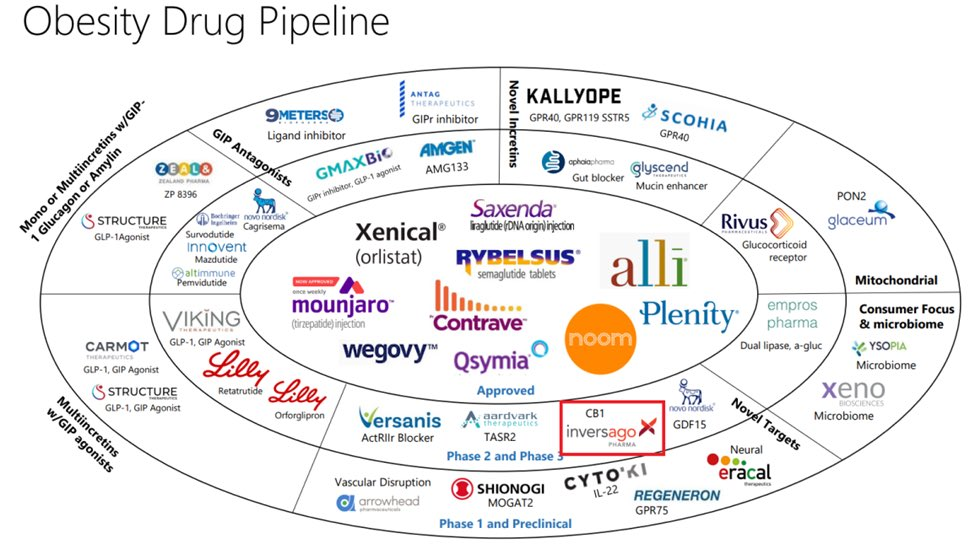 Wrapping up, it's clear that the anti-obesity medication represents a vast yet surprisingly untapped market. As one of the fastest-growing therapeutic segments, it emanates significant opportunities for early entrants like Novo and Eli Lilly, who are likely to establish a strong foothold in the market, similar to their significant presence in the Diabetes care market. From emerging biotech companies to big pharma, companies are flocking to this space, each eager to carve out their piece of the pie. To truly find value in this bustling market, savvy investors should keep an eye out for those innovators who have long remained under the radar, developing effective solutions that balance efficacy, safety, and affordability.